Are you one of those people who doesn't have enough storage for luggage when you go camping… So you add a trailer, then lower the sides, even a roof box… When you go on vacation, you take your whole house to have deal with every opportunity or problem much to the desperation of your spouse!!! If instead of overloading your poor car, you opt for a real motorhome trailer where you can take as much stuff as you can while getting rid of beds, furniture, etc. new model Tiny Home Companyits name: Outpost… Presentation!
What does the Outpost trailer look like?
From the outside, it looks like a small cabin towed by a simple van… Let's just say, there is nothing exceptional about it from the outside. It just shows two windows on each side, one in the back and one in the front, and a door, also glazed! With those four wheels, you still feel like she's ready for battle, even on the steepest paths… Nothing seems to scare her, and if the sun is scorching, has a large retractable awning to create a small shaded area. It is only 4.5 meters long and 2.5 meters wide. The empty weight is 2.7 tons, and the gross weight can reach 4.5 tons.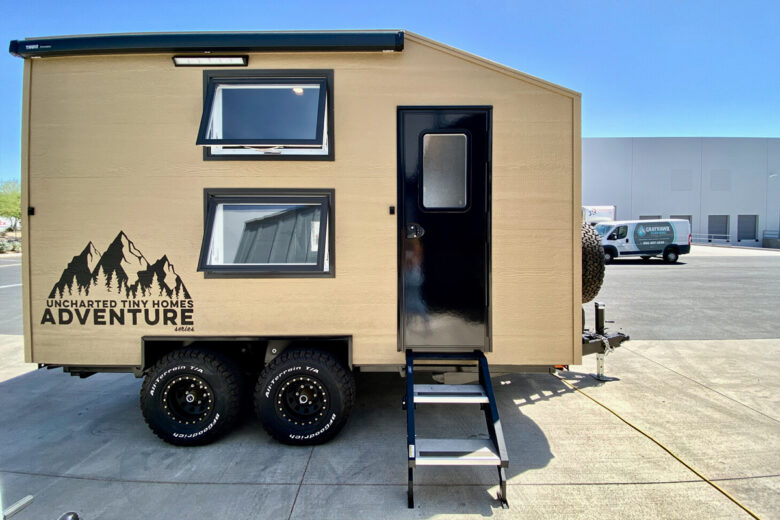 And how is it inside?
When you open the door, you immediately find two pairs of bunk beds, a two-burner hob and enough space for 4 people. Between the beds is a door to the bathroom with a separate shower and toilet. This small room has a small window. The interior is a bit rustic with those white wood panels that cover the entire cabin… Black cabinets and dark floors contrast with white walls… The kitchen has a stainless steel sink and a small hood over the stove.
Specifications and equipment
The Uncharted Adventure series starts at $44,500 (€41,500):
Dimensions: 4.5 meters long and 2.5 meters wide.
Weight: 4.5 tons
Large kitchen and luxurious bathroom+
Spray foam R25
2 sets of bunk beds
249 liters of fresh water
Premium awning
6 double glazed windows
Two 13 kg propane tanks.
stove with 2 burners
Available options for an additional fee:
full sunny
Air conditioning (generator required)
Outdoor Lighting
Wheel and tire set
Full size space tires
2000 watt generator
Refrigerator/freezer ARB Zero
3 receivers for hitch accessories
wall heater
Tank 500…