In French, there are certain words that were originally brands, but have become almost "common names" or, rather, terms that everyone knows. When we talk about a refrigerator, everyone knows that it is actually a refrigerator! Perhaps soon we will buy Baluchon, and then everyone will understand that this is actually a tiny house … Breton has been around for several years and makes custom tiny houses for its customers. Baluchon is also positioned as one of the benchmarks in this area in France. This month, May 2022, its creators are back with Claire's tiny house: La Pétricor, the name given to the smell that rain leaves on dry floors… Nature and the natural program await us on the side of the Vendée.
Let's get back to basics with Petrikor!
Funny name for a funny tiny house! With this new model that Claire has chosen, going back to basics is the right thing to do… Minimalism, traditionalism and modernity Petrikor could be summed up. It's not very big, but isn't that the concept of tiny houses at the beginning? The Pétricor is designed for two people, and Claire the cat… With a total length of 6 meters to fit on a trailer, the Pétricor can be taken anywhere and obviously complies with French towing standards. It looks a bit like a trailer, with dark cedar paneling and red-painted joinery. As for the power supply, Claire opted for a standard VR-style connection.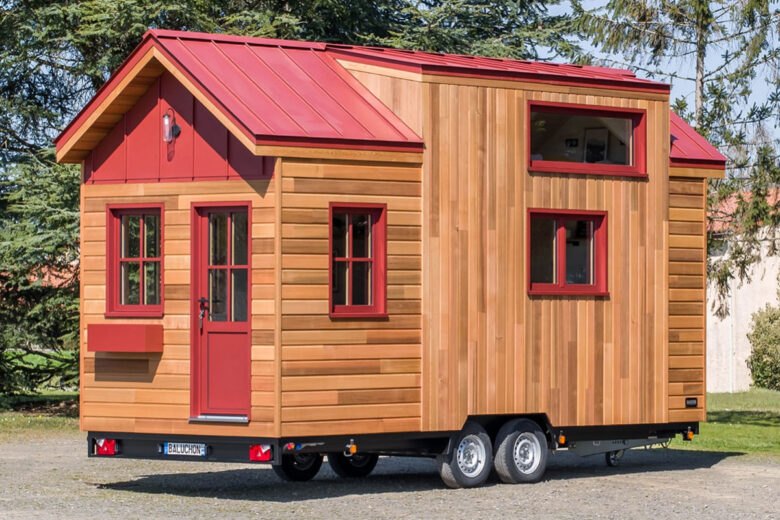 And how is it inside?
As the door to Claire's tiny house opens, we enter a living room flooded with light thanks to windows dotted throughout the tiny house. Thus, a folding sofa can accommodate two guests to sleep. Adjacent to the living room is the kitchen, which Baluchon was able to accommodate a fold-out table, sink, small fridge-freezer, oven and four-burner gas stove. Shelves installed for optimize the smallest space, and the bathroom is also on the first floor… This very small room has a shower and a toilet! The bedroom is accessed by a staircase that holds storage, which is exactly what you would expect from such a tiny home, with a typical loft-style bedroom with limited headroom, a small table and a double bed.
However, hidden behind the bed is a large storage closet that doubles as a bedside table. In addition, Petrikor contains secondary attic space. It's too small to fit an adult, and it might have made sense to make it a little bigger, but it could still be useful as a nook…