A sea container is a huge metal box designed to transport goods across the oceans of the whole world; this is its starting function. But when new or discarded shipping containers are used as the main building materials for a home, sometimes it results in giant dwellings… With five shipping containers, Longmont Colorado-based architecture firm F9 Productions recently completed the design of an innovative and one-of-a-kind custom home in Breckenridge. Perched on huge piles, the container house appears to be suspended in the air and is well worth a visit. Presentation.
Project of this container house
Breckenridge House offers area 150 square meters about. It was carried out using five shipping containers, each 12 meters long. It is also enriched with a large terrace of 52 square meters; Not bad for summer evenings! The terrace was built in such a way as to create connection between the natural environment and the building. Five containers were placed on piles to elevate the living space. Therefore, the tall house is used to create two huge carports for the owners' cars. There is even a small jacuzzi and a large seating area on the L-shaped deck with wooden slats. Moreover, he offers stunning views of the Rocky Mountains.
Interior view
In addition to a huge terrace, the Colorado home has three bedrooms, three bathrooms, a kitchen, a huge living room and a large dining room. All interior spaces are spacious and equipped with large bay windows through which you can natural light throughout the house. Sliding glass doors are located on the sides of the containers and open onto the terrace. With three bedrooms including a master bedroom, the house can accommodate a family of 6 or even 10 if you choose bunk beds.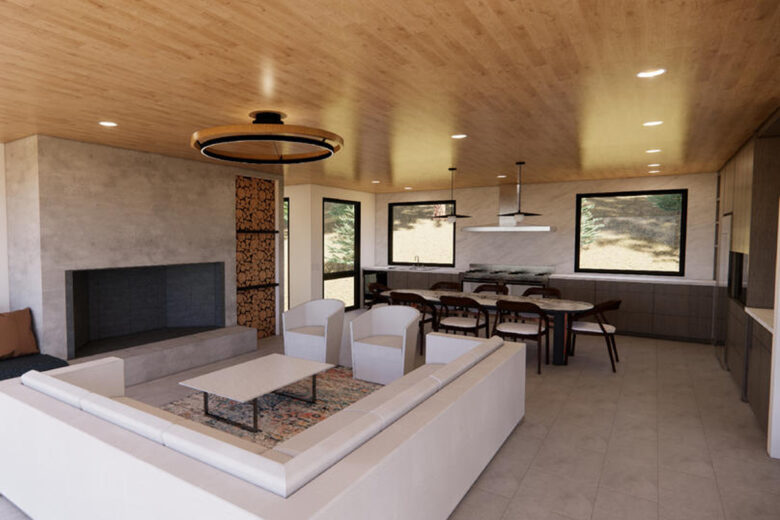 Show Spotlight
The living room, which includes a living room and a dining room, really deserves attention … We are always surprised when so much space is freed up in such small metal boxes. The dining area, located in the corner of the room, offers a large table that can comfortably seat eight people. As for the living room, which is an extension of the dining room, there is a white sofa that can accommodate ten people, as well as two comfortable armchairs. The screen is so big that it probably turn this room into a cinema ! The decoration is neat and sophisticated, and numerous windows or bay windows stretch along all the walls of this room!