To have a small house lost in the middle of a lush forest, where only the chirping of birds could break our day… Isn't that what many of us dream of? Living this life in the midst of nature sometimes also means giving up the comforts of city life, and some are not ready to take that step! In Japan, an architect Tohno Mirai, known for the groundbreaking architecture of the Earth, designed Shell House, a round, organic home that combines nature, comfort, ecology and modernity. Just great, a little virtual tour of this new type of salon is a must… Let's go!
Tohno Mirai Shell House
The Japanese architect is a specialist in organic houses, and his latest "work of art" is in the Karuizawa Mountains, Nagano, overlooking Mount Asana, Honshu's most active volcano. This small house offers an area of ​​58 square meters and is shaped like a "shell"… The architect decided close the west and north sides, the most "cold" and open south and east sides, the most exposed to solar heat. To prevent moisture from seeping through the ground, the designer installed his small organic house on a 1.20-meter-high plinth.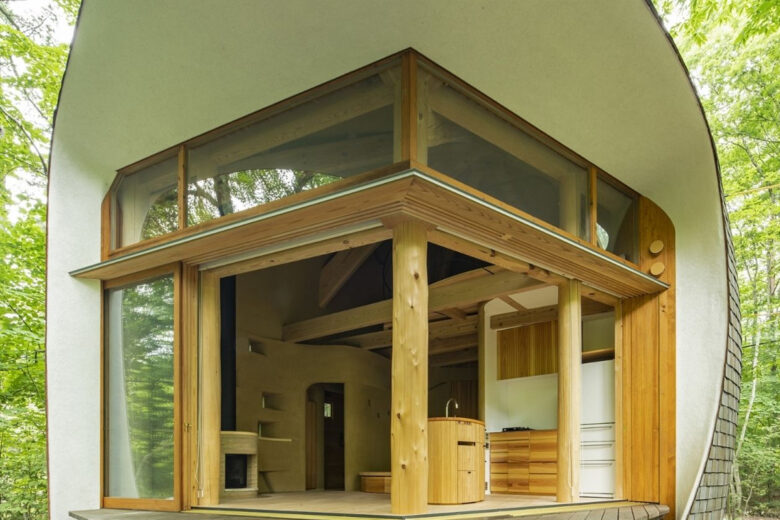 Mirai's little hut is built from wood and earth, materials that come straight from the surrounding forests and have no used only natural materials for the design of the house. For him a house in the forest awakens the life force of nature. A wooden door is recessed into the hull, revealing the first floor living space and wooden deck with a sliding door. No nails or screws were used, everything was built using a Japanese carpentry technique that uses seven beams that connect to a round beam located in the center of the structure.
Inside a shell house
Upon entering the Shell House, we first find a raised platform, completely open, which allows you to eat, rest and even sleep, since a futon bed is provided for this purpose. At the back of this single room is a small bathroom and storage space. Upstairs there is a living room and a bedroom which also has plenty of storage space. The roof beams seem to be curved and Iallow light to enter through small holes at each end.
But by the way, what is an organic house?
An organic home does not fit into any traditional building framework… By definition, an organic home is a LIVING home built with respect for Nature and People. The concept of an organic home dates back to the early 20th century thanks to ecologists…