Just a few weeks ago, we introduced you to ScoopHome, a French company that has begun building eco-friendly and semi-buried bubbles, small hobbit houses designed by this Basse-Rhin-based company. Living in the heart of nature, in a bioclimatic home and respecting this nature: this is the ScoopHome concept, led by Matthew Flory… ScoopHome is back with a new project that we will tell you about exclusively! This project is called "Cocoon" and its idea is to offer an alternative to our urban life by creating an environment conducive to creativity. This project was originally meant to be an artist's studio, but in the end, everything should be possible… We also interviewed Matthew Flory, which details the Cocoon project! Opening.
Q: Can you introduce yourself?
Hailing from Chamonix (Mont Blanc), semi-recessed architecture has fascinated Mathieu for years with its constructive possibilities, atmosphere and ecological character, giving a career twist (perhaps as a result of forms sculpted from snow). Fully educated as an architectural engineer and receiving numerous awards in the subject in France and Quebec, he became the leader of a small team that launched the ScoopHome business project for sustainable and alternative building. He met his wife Charlotte while traveling in the Mediterranean, with whom he shared his love of water and the well-being it provides. Charlotte, originally from Germany, took on the project with a particular focus on health and wellness. With years of experience as a nurse with the mentally ill and children with epilepsy, she is privileged to understand the impact our built environment has on the body. In particular, she completed a Baubiology qualification course in Germany, a holistic approach to building (relationship between health, ecology, economy, environment) and started a master's degree in entrepreneurship at the École de Management Strasbourg Business School with the aim of leading this couple's project well for the long term.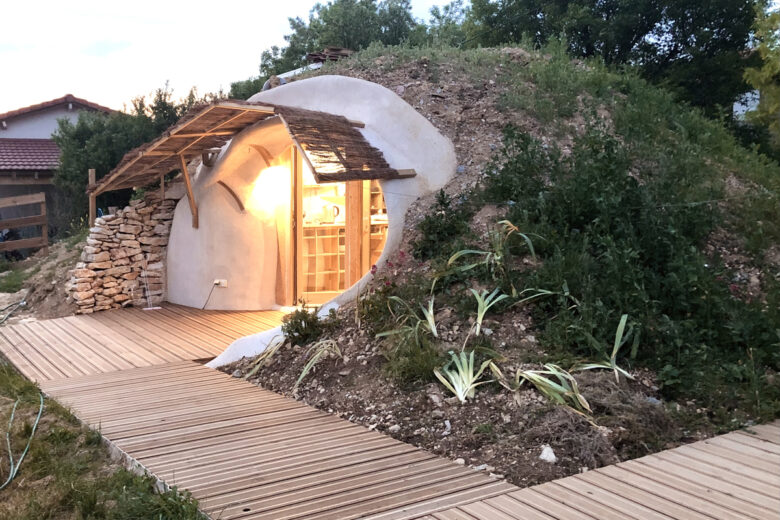 Question: Tell us about your project
ScoopHome is a fundamentally alternative architectural concept that lies at the intersection of several existing concepts: SEMI-DEEP | WORKSHOP PRODUCTION | WEAK DELAY | BIO SOURCES MATERIALS | PHYSICAL AND MENTAL HEALTH (POSITIVE IMPACT). We are at the stage of designing and prototyping an elementary module with an equivalent area of ​​about 30 m2, but with a floor area of ​​20 m2. This module called "COCOON" allows you to create different configurations of furniture, the parts of which are combined with a flowing shell and…