On the Alabama side of the US, there is a manufacturer of very original tiny houses that we have never seen before… Tiny houses fully personalized for less than $100,000 that look like mini penthouses. Let us recall the definition of a penthouse: first-class hotel apartments or apartments located on the top floor of a building or palace. It usually has a large terrace and a landscaped roof garden with a privileged panoramic view of the city. To live in this house, it is better not to have counterparts with neighbors… The walls are completely transparent but she is beautiful! Presentation.
The tiny house clientele is changing!
Until a few years ago, tiny houses were more of an economical and environmentally friendly alternative to traditional construction … They allowed families to be relocated after a natural disaster like Hurricane Katrina in the US in 2005, when they appeared … They were also a way to become an owner without going into debt for decades. Today, owners of tiny houses or container houses have enough financial means to buy a luxury apartment, but the tiny house is becoming so trendy that they want to have luxury in it too!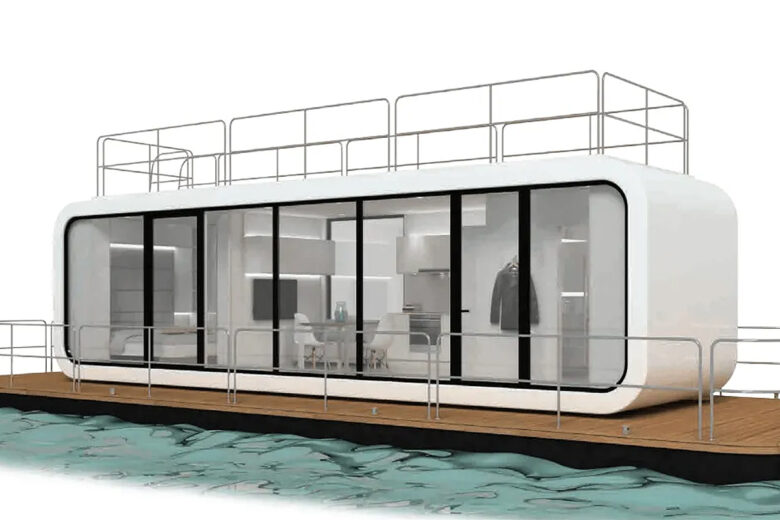 SafeRooms Design, or houseboat!
In the United States, any owner can add a garden studio without permission from local authorities, which is not the case in France. This tiny house is also called "boat house" which means "boat house" and it was custom made for the owners… This company fulfills the wishes of customers who can choose everything : configuration, exterior and interior colors and coatings, fittings, etc. Therefore, the inhabitants of this house have chosen transparency everywhere with glazed walls from top to bottom … There is no need to go inside, everything is visible from the outside … Thus, we can see a discreet and monochrome decoration with long corridors meandering in a container. ..
The manufacturer gives it the following qualities:
Raincoat
Resistant to mildew, rain and wind
Walls built to exceed fire resistance standards for homes
The energy standards are as follows:
Highly effective thermal insulation – adapted to your climate
Natural cooling effect of a panoramic window
Location maximum natural light
All Tiny House boats are triple hull from 36′ to 60′. The size of a small house made of long pontoons is from 26 to 40 feet. The three body platform can support up to 12,000 lbs. Imagine yourself aboard this very special barge, it's amazing, isn't it?