When we look at shipping containers, we can rightly wonder why manufacturers attach such importance to them… After all, they are just metal boxes used to transport goods from one end of the world to another. However, containers have "something extra" that tiny houses or A-frame houses don't. It can also be used to make bridges to connect two parts of a house… In short, it is a material. perfect for letting the creativity of builders speak for itself. And it's not the Brazilian architectural firm Plano Livre that claims otherwise! With his model called Estúdio Lapinha installed in Lapinha da Serra in Brazil, he proves to us that two containers can be connected to make the perfect home. Opening!
Who is Estudio Lapigna?
The architecture studio describes its small container home this way:The landscape is the main character. The space is made for contemplation. Wide glass doors blur the boundaries between outside and inside. Tones bring nature to this retreat". Originally built for an exhibition, the container house was dismantled and then settled in the middle of the forest, surrounded by waterfalls… Colours, all in the theme of nature, 30 m² of living space literally blend into the landscape. Its design is different from the container designs we are used to because it is built from custom containers…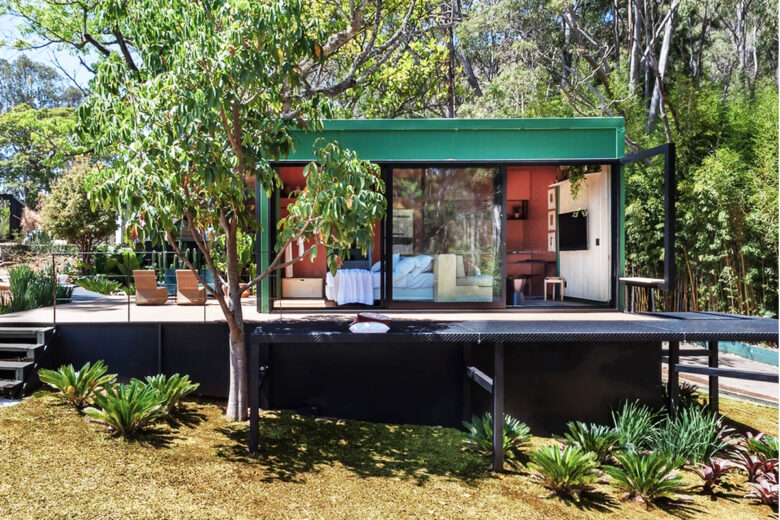 This is due to the lack of new materials. But, in the end, it was more of an advantage for the architect, because he was able to restore better and more durable materials. It was enough insulate with polystyrene foam and build a roof that drains water easily, and voila! To connect the two containers together, the architects decided to open up the interior to create a floor that included a bedroom, living space and bathroom.
Detailed design…
The architects explain that the construction process guided the project. The two container modules are joined at the side, and their industrial components are exposed undisguised. The hydraulics are concentrated on the wall, forming an infrastructure module. In addition to cutting costs, this strategy also frees up the remaining space. In this amazing container house, most of the furniture was made to order; this goes for the sofa and all the storage spaces. Thanks to the play of colors, different spaces materialize without separation. Terracotta color demarcates the kitchen, when green…