Going camping with a group of friends is sometimes the best vacation… But organizing such a trip usually requires a lot of equipment! Imagine going with 20 friends, you will need at least 4 or 5 tents, or even 10 if you choose the Canadian classic… Ozark Trail thought of you by designing one tent that can accommodate 20 people. air ! In this way, shared camping, according to the designer, becomes possible even for a group of 20 people… You may like to sleep "tight together", but the idea is good… A single tent with rooms arranged in a star around a central room, unheard of for so many people. Presentation.
Tent XXL
It's called Hazel Creek 20-Person and has 4 bedrooms arranged in a star pattern around an indoor living area. One of the branches of the star serves as a canopy and entrance. But we find it hard to hide there with 20 people no matter what! At the same time outdoor camping, living outdoors, close to nature… So each of the bedrooms can theoretically accommodate 5 people since there are 4 bedrooms. However, the manufacturer indicates that the center room can also be converted into a bedroom and we understand better how the tent can accommodate 20 people because this room seems more than bedrooms.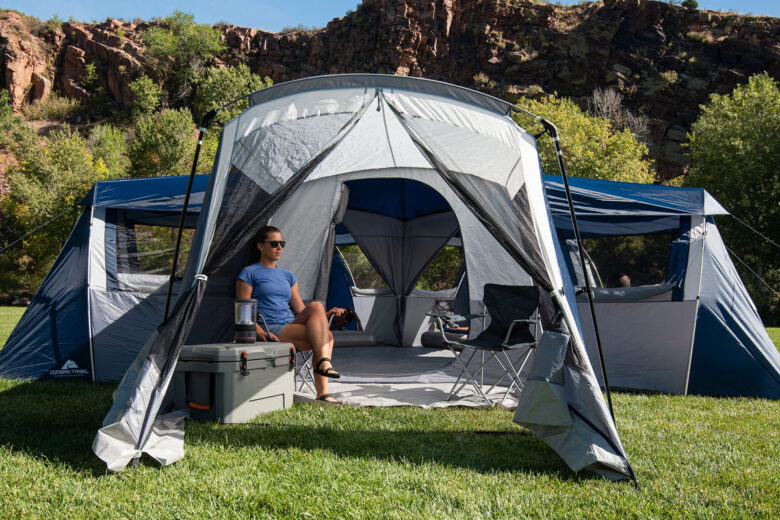 Inside tent for 20 people
According to the manufacturer, two full-size air mattresses can be placed in the central room. The bedrooms seem to be a bit smaller than the central room and therefore each one can accommodate a large air mattress. Each room has an exit to the outside, which will allow you not to step over those who sleep in the central room. The room that serves as the entrance can also act as 5th Bedroom as it closes and also has a floor mat that protects it from the outside. Each room also has reflective streamers and internal loops to hang, for example, a lamp… Each room also has integrated storage slip a smartphone or a book!
How much is a tent for 20 people?
This 20-seat Hazel Creek Star Tent with Screen Room from Ozark Trail must have been a hit with customers because: available for $379 (€358) at www.wallmart.comShe is out of stock ! Obviously, if you manage to buy it, you will have to reserve a "big location". According to the data provided, 28 minutes to install it with two people… It weighs 18 kg, the height of the central part is 2.50 meters and the diameter is 7 meters. Finally,…