Perhaps you are looking for a builder for your future container house… Although these huge steel monsters were not of much interest just a few years ago, they are becoming an ideal material for building inexpensive houses at a very low cost and very quickly. With the housing crisis that has engulfed many countries of the world, it is necessary to find alternatives to traditional construction, which is also due to the shortage of raw materials that is rampant. In Spain, we unearthed modular home builder Modular Project, who promises to build you a 250m² house in just three months… At the end of the article, you will also find Claudy's house, which looks like everything straight from the modular project directory. Let's go to !
What is a modular project?
This construction company based in Alicante in Spain offers build quality housing from shipping containers. With Modular Project, the approach is simple: reuse used shipping containers and turn them into beautiful permanent or temporary homes. Thus, they can become the main living spaces, garden studios or additions to traditional houses. The system is already present in many countries around the world, but in the south of Spain Modular Project is today one of the most famous builders of this type.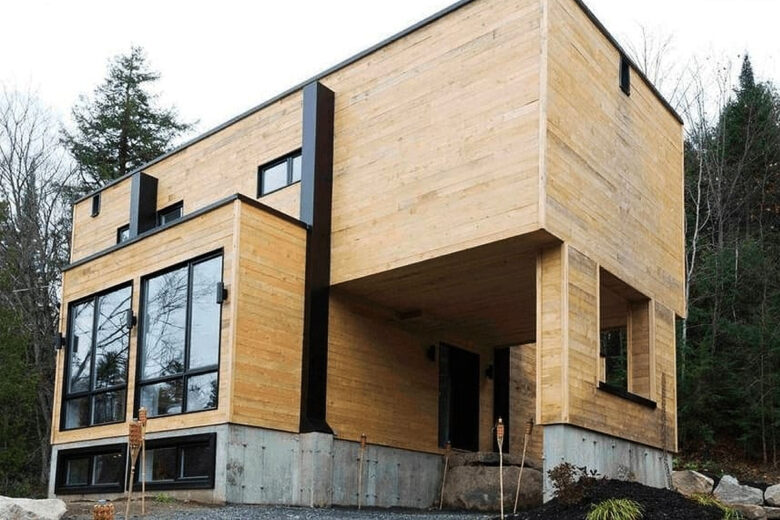 Thus, the modular design offers economical, fast and efficient designs; At least that's how they define themselves. And they offer self-contained structures made from recyclable materials that have very low environmental impact. All their fittings are designed using highly energy efficient materials, and all offered facilities are energy efficient. And, like most builders of this type of home, the Spanish contractor adapts to the needs of its clients by offering full customization of your models.
An example of building in the same style
Claudie Dubreuil is a Canadian who may have unknowingly inspired the Modular Project, or may have been inspired by a Spanish company… However, she built her own house out of shipping containers, and the result is breathtaking! So Claudie bought four decommissioned shipping containers for €3,000 each and then hired a team to install her containers in just one day. Outside, the walls were covered with pine forest. Already working in the construction industry as a commercial director, she wanted something different and less expensive than traditional houses. Reduced cost of raw materials…