For several years now, tiny house builders have been proliferating in the US and waging a merciless creative war… With the enthusiasm generated by tiny houses, they must offer original designs to their customers. Clients, by the way, who will never stop wanting tiny houses you won't see anywhere else. They even sometimes become luxurious tiny houses that lose some of their original meaning: economic and ecological! In this little game, Colorado builder MitchCraft Tiny Homes seems to have found the recipe for success… In Kay's Tiny Home, he offers a tiny mobile home that offers a two-level loft, and it's great! Presentation.
Kei's tiny house, outside view
MitchCraft Tiny Homes has been building bespoke tiny homes since 2015, and with a new design, Kay's Home exceeds industry standards and expectations, offering features you're unlikely to find in other tiny homes. On the outside, it makes itself known by the contrast between a structure of horizontal wooden slats painted gray and a small corner covered with lacquered wooden slats… It measures 8.80 meters long and 3 meters wide and offers functional area 35.3 sq.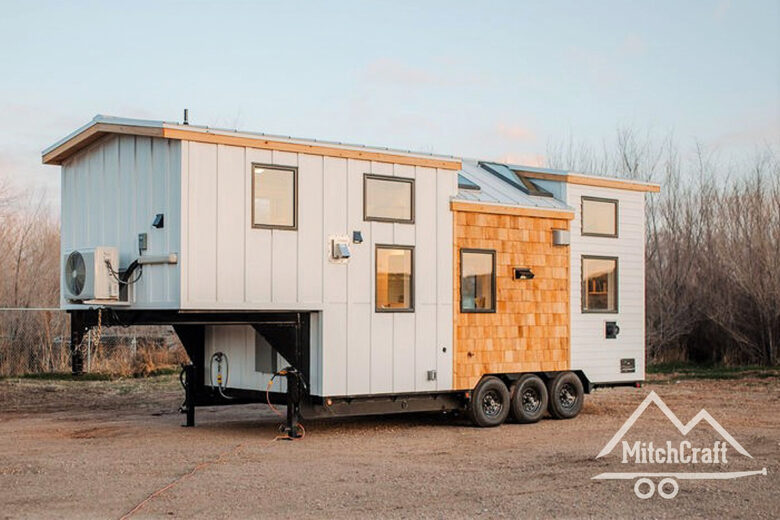 Inside Kay's Tiny House
From the entrance, the tiny house offers visitors large yellow French windows. that fill the space with natural light. You enter directly into a spacious and functional living space with two built-in sofas, a library and plenty of storage space. Installed on sofas, the view goes straight to the kitchen, which is also flooded with light … The space seems to have increased! You can also see a wall staircase that provides access to the first floor. The kitchen of this tiny house remains minimalist, but nothing is missing… All household appliances are ingeniously arranged: a four-burner stove, a refrigerator, an air grill.
A little vintage touch is added by an old-style sink with a gold faucet. There are also practical utensils, such as a retractable cutout right above the trash can that hides under the kitchen cabinets. The counter is then used as a dining table. or desktop… As for the bathroom, this is a kind of "highlight" of this tiny house! Located next to the kitchen, it is separated by a pocket door. The owners focused all their attention on decorating with aquatic greenery to die for! The shower is equipped with a rain shower and the bathroom has a toilet, sink + cabinet, and even a bath… A great combination of soft and warm colors for this…