in We love green festival which took place in Paris on June 4 and 5, fell under a storm and had to be evacuated on Saturday June 4 … A conference was to be held on the same day to return the experiment conducted Pierre-Alain Leveque as well as Clement Chabot, two engineers who decide to live in a small house off the grid for a year in Concarneau. Therefore, their task was to live for 10 months in a self-contained mini-house of 14 m², as well as to introduce inexpensive and environmentally friendly technologies. A way to prove that "low tech" is possible… As long as you are inventive and creative! Discover their experience.
What is low tech?
The low-tech lifestyle promotes a sober life that is less energy-intensive than a high-tech lifestyle. This does not mean that those who practice this concept are living like in the Middle Ages, but simply looking for solutions to do without technology in accordance with their needs. For two engineers, technology rather rhymes with dry toilets and pantry not with a connected toilet or an American refrigerator. Their tiny house had the necessary comfort, but nothing more, that is, two bedrooms on the mezzanine, an equipped kitchen, a place for a shower, a terrace and a lounge area, the Lemonde website explains.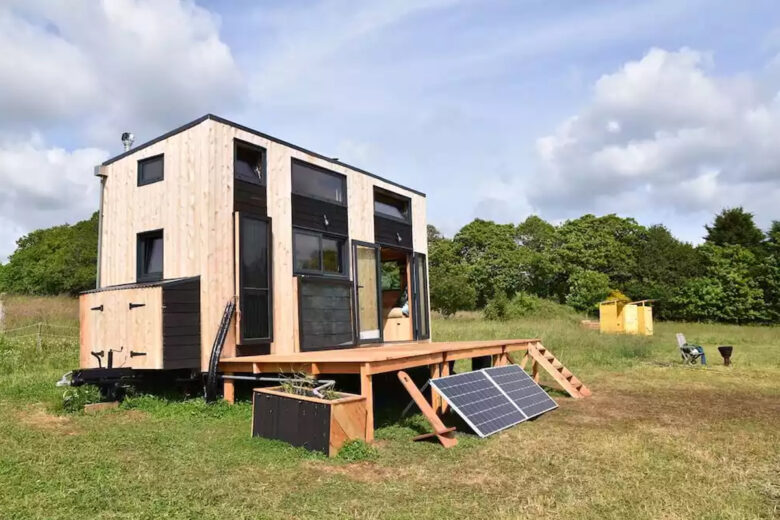 What did they represent?
Pierre-Alain Leveque stayed in Bangladesh in 2012 during his civil service, then began a world tour of low-tech initiatives on the catamaran Le Nomade des Mers, and finally a tour of France with the same technology. In order to put into practice the solutions discovered during his journey, he decided, together with Clément Chabot, a classmate, build an autonomous tiny house and live there for 10 months… To carry out their project, they start by reducing their water consumption to 30 liters per day instead of the average Frenchman's 150 liters. To do this, they install dry toilets, share a washing machine with friends, and practice a "quick shower" ! For other needs, they collect rainwater in a 250-liter tank and filter it. They note that the rainy weather in Brittany helped them a lot in this matter!
And then what do they do with electricity?
According to ADEME, heating accounts for about 28%residential consumption. Therefore, they choose very strong thermal insulation in order to reduce heat consumption. The two friends also install solar heating when the need arises. So the black wall facing south traps heat behind the glass and then dissipates it in a tiny house. Finally, a wood-burning stove provides enveloping warmth on cold winter nights! Reduce electricity consumption…