Now we know wooden tiny houses and houses based on sea containers, now we will need to add a pitch! An industrial style mobile home built by Movable Roots, a small mobile home specialist based in Melbourne (Florida, not Australia!). This company creates attractive small houses, adapted and personalized according to the needs of its customers. since 2017. But for 20 years they have been building traditional houses; they just adapted to the high demand for tiny houses to make them one of their specialties. Discover Jock, who is halfway between a metal container and a wooden house!
Jock concept
This superb tiny house is supported by a custom-made trailer 7.62 meters long and 2 meters wide, i.e. living area approx. 30 m², including the floor that Moovable Roots calls the attic! Jock is inspired by the Cat House model, but the owner wanted his house to be more industrial and modern. It is slightly larger than the original, a few more square meters. And as soon as you enter it wealth of light that welcomes you: large windows surround the house. From the outside, metal parts resembling industrial containers are visible, and parts lined with "wooden" color slats.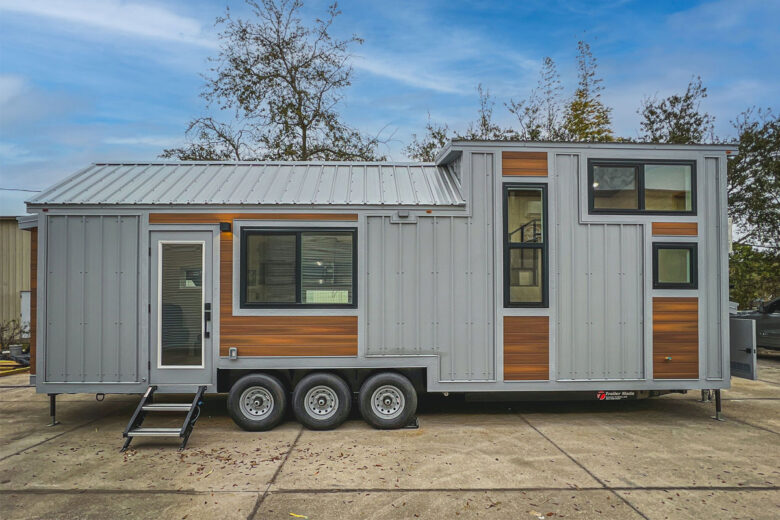 Small excursion inside?
As we enter Jock's main living room, we are greeted by two armchairs. The kitchen, on the other hand, is a combination of wood and metal. reminiscent of the appearance of the house. The kitchen and bathroom are separated by a large wall. For this last room, the owner chose black tiles on the floor and gray on the walls; black lamps also serve as a reminder. There is a shower, regular toilets and a washing machine. The bathroom opens onto a staircase leading to the attic master bedroom and custom built wardrobes. On the ceiling are two magnificent skylights overlooking the sky, fall asleep with your head in the stars.
All the amenities in a very small space!
It's not because she's very small that she's uncomfortable as Jock! It has all the necessary amenities in the kitchen such as induction hob, microwave, oven and large fridge… Of course, the storage spaces are designed to save space! The owner of "Kachka" preferred the bar counter instead of the pantry of the "Cat's House". The cost of Jock starts from 123,000 euros. ($134,000); the model presented here with all options costs 151,400 euros. Moovable Roots is an American manufacturer…