Dreaming of an autonomous, spacious and sustainable home, but don't know where to turn? We found a Franco-Portuguese startup called Hoummi that offers self-sufficient "living spaces" in terms of electricity and water that don't affect the land they're set on. Company boss Lars Herbillon not new to the subject, as he started building his own miniature house when he was only 18 years old; then he was a high school student in search of autonomy and built his house on a trailer. Probably the start of a professional career! In 2016, he turned to local partners for help in completing his task. The high school student has grown a little, but now his passion is expressed through Hommy and he is going to build for others. Presentation!
Difficult birth!
Between 2016 and 2022, Lars worked hard on his project, just experimenting with living in a self-sufficient tiny house. He admits that he had difficulty getting electricity. FROM total 4 solar panels, he could not live without a household network … On the other hand, he could be autonomous in terms of water, provided that his consumption was controlled and without a washing machine, he clarifies. Convinced that self-sufficiency is possible in a modular home, he joins forces with three people to found Hoummi, a concept autonomous, reversible and smart houses!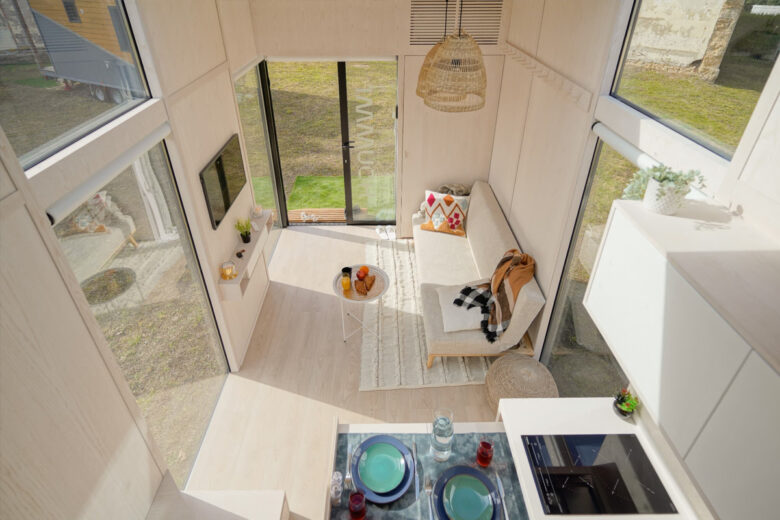 What is the concept of Hoummi houses?
For electricity, the startup offers two solutions:
Complete autonomy with photovoltaic panels and batteries;
Connection to the classical grid to complete the production of solar panels and, along the way, to re-inject unused electricity into the grid.
For starting, the impact of the lithium battery on the environment is significant, so it is recommended to connect to the mains. to limit this influence. For those who want to change location, a solution with full autonomy is obviously needed. Hoummi is modular and will be delivered by truck, but then it won't need to be left on a trailer. The habitation block is actually placed on foundation bolts attached to the ground. Therefore, a concrete slab is not required.all you have to do is move the foundation to another piece of land if you want to move the house… And the remaining land will not be affected!
And how is it inside?
The main module of Hoummi includes a kitchen, a bathroom, a utility room and a mezzanine. So by adding modules, you can add bedrooms, an office, a game room! Everything is possible. The spirit of Hoummi is to live in a minimalist style, but the blocks can be assembled like LEGO, which is convenient for expansion…