Every month Forbes France introduces you to a personality from the world of music. Of those who reveal talents. We invite you to meet Helen Payette, La Lumineuse. Interview conducted Florence Petros
---
Mathematics and music, as you know, often dispute each other in the most secret correspondence… Apparently, the same thing with computers.
Christoph Rizu, the chiseled mustache of an opera character testifies to this: this educated engineer, who from an early age fell into the cauldron of lyrical art, thanks to the disco of his (great) parents, illustrates in the most blatant double life what is not adultery. A pianist, an amateur singer, a music journalist, a jury member… and even a writer, nothing has ever stood in the way of Christophe's career, as he has since switched to dealing with the insurance giant. Even his wealthy presidency forumopera.com, which he edited for ten years, or his repeated publishing successes. After " 100 evils of the opera (Via Appia), which illustrates how, more than 4 centuries after its creation, the Opera quickly releases passions, praises or anathemas, " Around the world in 130 operas (Premières Loges) softly positions itself as a guide, a complete, free and purposeful guide. New Production: Audition Guide Moses and Pharaoh Rossini at the Avant-Scene Opera.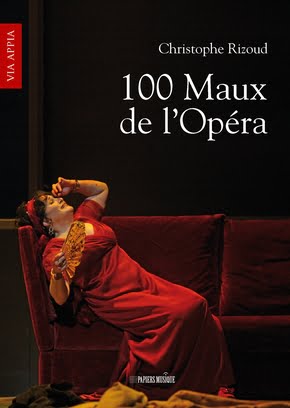 believe that Christoph Rizu, in the form of a mischievous wink, intends to make his professional life a form of total Art, an operatic style. Opera, a unique art, musical and theatrical at the same time, found in him an exceptional conductor who embodies what he gives to listen and see – unceremoniously.
How did you get into the cauldron of the Opera?
Christoph Rizu: Like Obelix, from an early age, by chance and out of curiosity. My parents wanted to encourage an innate taste for music in general, and for the voice in particular, by learning to play the piano and buying a turntable.R of which, hungry for discovery, I explored the family disco and forged my ear (ah, sepia charm La Traviata performed by René Doria and Alain Vanzo in French!). Like all children, I loved being told fairy tales, and what could be better than an opera, a teller of wonderful stories, even sometimes tragic ones! Limoges was the nearest theater to our house, about sixty kilometers away. I applauded Montserrat Caballe at her recital in the early 1980s. "brave!" flew. I discovered, amazed and happy, the fever of an opera that has nothing to envy…