The tiny house is a small ecological house, light and fast to build… Light as a FEATHER! And Plume loves this Alpe-de-Haute-Provence tiny house maker that produces in bright locations where engineering know-how and craftsmanship mix. Plume engineers and craftsmen are involved in all areas of tiny home design: design, framing, electrical, plumbing, roofing, layout, and more. With this interdisciplinary approach, Plume supports you in complete blueprint for your tiny house and delivering a finished product that is sure to meet your expectations… A philosophy that is also reflected in the choice of materials, preferably durable, and in the heart that they put into every project. Let's get acquainted with the new model Plume, which bears the beautiful name AZUR!
Plume Basics
Fluidity, utility, beauty and longevity are how Plume's work can be summed up… These four core pillars underpin every tiny house design activity. Whether it is the choice of materials, equipment, lighting or interior layout. Thus, each project begins with a design phase and a brief introduction to the client's needs. Our goal: to perfectly define the contours of your vision and translate them into a home design that suits you. The aim is to fully understand the wishes of the client and the future functionality of the tiny house (study, extra bedroom, workshop, etc.).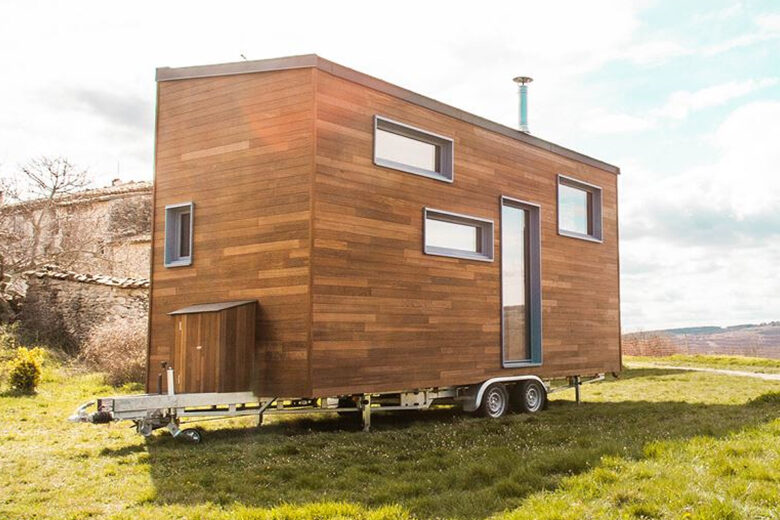 Tiny Azur in detail
The new tiny house designed by Plum will accommodate two people in complete serenity, with comfort worthy of the largest palaces! On the ground floor there is a fitted kitchen with fridge, sink and induction hob. In terms of finishes, they opted for wood and the austere look of spruce for the top, reinforced with a triple layer of two-component water-based varnish to protect the wood from possible bumps or protrusions. The raised living room has a large sofa and a wood-burning stove for relaxing on the coldest evenings of the year… heating can also be provided by electric heaters in case of a shortage of firewood or laziness of the residents, light a fire!
As we said, the living room is raised by one meter, which makes it a great cabin for children or perhaps an extra bedroom… The bathroom, on the other hand, is furnished in a classic way with a toilet and an 80 x 80 cabin covered with sheets of natural stone, By the way, a pleasant reminder of the stone! Finally, we reach the mezzanine through a small hallway that may seem like a detail, but…