When it comes to travel, everyone has one or two things that make any trip more comfortable. Whether it's pre-flight cosmetics, a cozy sweatshirt, a supportive neck pillow, a secure carry-on, or anything in between, the best travel products will make traveling enjoyable and enjoyable.
Keep reading to find out which products our editors choose when we travel. From expensive travel gear to everyday essentials that become even more valuable on the go, these are our favorite travel items.
$14 to Cadance
Cadence capsules have been absolutely revolutionary for my journey. I've always run out of things like travel moisturizer and toothpaste and now I don't have to worry about it at all. I just squeeze out my toothpaste, apply my moisturizer, and pour my pills into each of these canisters, and I love how they all get magnetized so they stick together. Lids are secure yet easy to unscrew and very easy to clean. — Rachel Lubitz Senior Lifestyle Editor
$32 at Comrad Socks
After learning about the main benefits of wearing compression socks on an airplane, I never traveled without them again. Not only do they keep me comfortable when flying in cold weather, but they also help fight leg fatigue, prevent swelling, and even prevent blood clots when walking or stretching in flight. I especially love the Comrad compression socks because they are fun and colorful, come in a variety of styles, and have a choice of graduated compression stockings! — Stephanie Griffin, Senior Digital Content Strategist
$78 to Everlane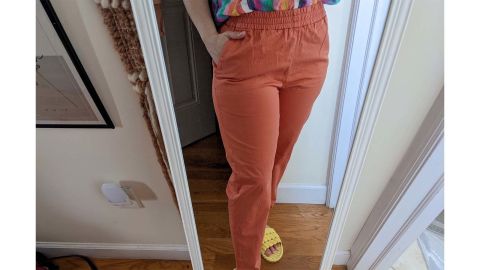 I was guilty of wearing pajamas on the plane, but I wanted to opt for something more padded that would still provide comfort on long flights. These Everlane pants fit the bill and are the most comfortable pants I own. Lightweight fabric and an elasticated waistband make them a must-have. — Lindsey Smith, Assistant Editor
$699 at Briggs & Riley
I am not exaggerating when I say that my partner and I are arguing about which of us gets this suitcase when we go on a trip together. This is peak suitcase design, starting with the wheels, which are so smooth…
.